News from the best destinations on earth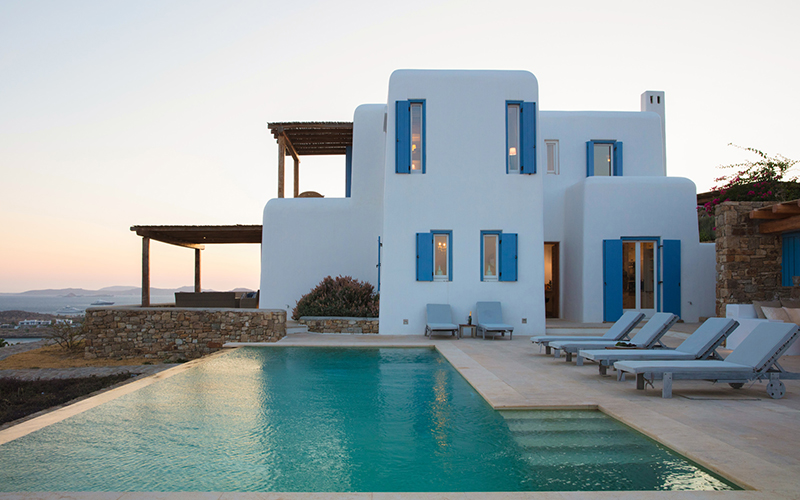 Last-minute September holiday at Pelikanos Villa,
Mykonos, Greece
---
Pelikanos villa is perched high on the cliff tops of Pyrgi on Mykonos island, featuring panoramic views across the Aegean Sea. The villa is perfectly situated just 5 minutes from the airport and 10 minutes from Mykonos town, between Paradise and Super Paradise beaches. Rented as a whole, this exclusive hideaway is quietly self-contained, yet still compellingly close to the island's fabled beaches and hedonistic nightlife. Onsite personal concierge and the most luxurious amenities set this villa far above the rest. Enjoy barefoot luxury in the playground paradise of Pelikanos…
Ideal for a family gathering or party of friends, Pelikanos consists of 8 bedrooms across 3 individual villas, sleeping up to 15 guests in total. Accommodation is designed to flow seamlessly for inside-outside living. Airy interiors featuring marble, wood and designer fabrics open on to a stunning alfresco lounge area with comfortable banquettes beneath a bamboo pergola. Guests can enjoy endless outdoor entertainment space including bar, barbecue and pizza oven, alongside the heated infinity pool. Each bedroom also has a private terrace or balcony for quiet moments.

Our onsite Estate Manager will happily assist in organizing every aspect of your stay at Pelikanos villa. They know who to call to secure you guest list entry to the best clubs, event tickets and restaurant reservations. If you want to hire a moped to explore the island or a yacht to sail its seas, we will make it happen.

Visit the town of Little Venice which offers a wealth of boutique restaurants, bars, shops and hideaways. Mykonos Windmills are a quintessential feature of the islands' landscape and a symbol of a rich virile past. Located above the dazzling turquoise waters of Super Paradise Bay, Jackie O' Beach Club awaits with an explosion of the senses. You'll always be meters away from the perfect place to relax, after a dip in the ocean and some time in the sun!

Contact us today to book your September Mykonos getaway...